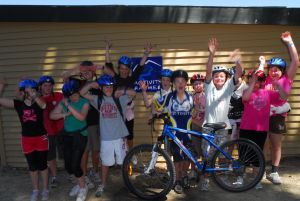 Accommodation
There are lots of options at the Hanmer Forest Camp. Schools can book the Ensor Lodge, Forestry Huts and use the Big Kitchen (100), Maling Kitchen (55), or Reid Kitchen (35), or a combination of both cabins. The Abilities Lodge(27) can be combined with the Forestry cabins too. We also offer tent sites for large groups. Special school prices for New Zealand schools during term time apply.
Plan a school camp in Hanmer Springs and give your students an experience of a life time. Extend their horizons, build their self-confidence and encourage them to work as a team.
---
Activities

We have an outdoor activity company on site, Activity Hanmer. They have a range of challenging and exciting outdoor activities for your school camp.

Choose from Mountain biking, Tramping, Overnight Camps, Bush skills, Tree Climbing, Orienteering, Problem Solving, Leadership training and Weedbusting.

Activity Hanmer also provide team-building activities for conferences, corporate events, social groups and sports quads.
---
Catering
If you do not fancy cooking then let Rusty Carrot do the work.Catering packages are available for groups of any size staying at the camp. By using the the catering service you have the advantage of knowing exactly what your costs are and you also save time. Vist the Rusty Carrot website for further information.
"We used Rusty Carrot Catering for our year 5 and 6 children. In short they were fantastic. The food was delivered and served hot and fresh and extremely tasy. Rusty Carrot catering took a large hassle out of camp organisation.The prices were very reasonable as well - you would be hard pushed to do it cheaper yourself." Glen McKensie, Deputy Principal, St Albans School
---
Facilities
Recreation Hall - We also have a large hall that is available for hire (see our Price List). This is suitable for camp concerts, group activities and conferences. There is seating for up to 90. It is a great space for groups to be creative.

Registered Charity #CC23825