Family Escape special deals.Book through Hanmer Thermal Pools.
---
We are are constantly on the lookout for new people to volunteer at the camp. Click HERE for more information.
---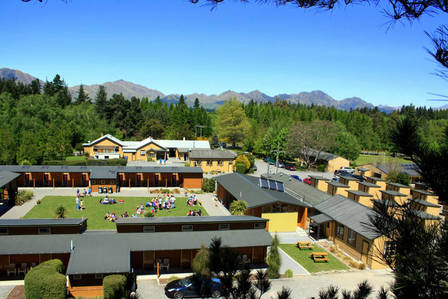 The Hanmer Spings Forest Camp is located only 2.5 kms from the alpine village of Hanmer Springs. Set in a stunning spot below Mt Isobel and surrounded by forest. Formerly a Forestry Camp that was donated to the community and now run by a charitable trust.
The camp offers a range of accommodation for up to 174 people and can host a number of school camps as well as group bookings, family holidays and individual stays. Set in over ten acres of grounds there is lots of space for groups to spread out and play games, and let off steam. There is also a children's playground. There is a spacious camp ground with large sites and great views.
The camp has a range of accommodation options and 5 kitchen/lounge areas that can be used. The Ensor Lodge was built in

2002 and has Family cabins and bunk rooms. Most cabins are wheelchair accessible and have two accessible showers and toilets. Our

Forestry Cabins

date back to when the camp was a Forestry Camp and they were the single men's quarters.

The Abilities Lodge

is a fully self-contained lodge for up to 27 people and has two

Self-contained motel style units

attached that can be booked along with the lodge.
---
" We really enjoyed staying in your Abilities Lodge on our recent Hornby Teens camp. Everyone had a great time and we'll definitely be back! " (Hornby Teens Camp)
" Your camp is the best example of the best!" (Bill Abbot)
"Oh you will definitely see us again - we love it!" (Rochelle Evans)